** Russ Brown inducted into the Sturgis Motorcycle Hall of Fame**
Your Motorcycle Lawyers
Congratulations to our BAM winners who won tickets to the Russ Brown Motorcycle Attorneys BAM VIP at the Legendary Buffalo Chip - Sturgis 2013. Stay tuned to see what is in store for 2014.
Motorcycle accident lawyer Russ Brown is a proven personal injury attorney, and has served the motorcycling community nationwide since 1975. Have you been injured in a motorcycle accident? Regardless of whether it was a minor bike accident or major motorcycle crash, Russ Brown is your best resource to ensure the enforcement of your rights protect and the securing of the best compensation possible for your accident. Russ Brown, Chuck Koro & Jim Romag are true motorcycle accident attorneys. Russ, Chuck and Jim are riders within the community and they truly care about the bikers they represent. We know the ins and outs of motorcycle accidents and know how police reports can go against the biker unfairly. Some people out there still have negative opinions about 'bikers' and this can affect what you may face at the scene of the accident. You deserve a personal injury lawyer that will fight for your rights and get you the compensation for your motorcycle accident that you deserve.
The motorcycle law firm of Russ Brown Motorcycle Lawyers, Brown, Koro & Romag, LLP, has a 98% success rate for all retained cases.
In certain circles it seems that personal injury law firms get a bad rap, with people saying that they are only in it for the money, etc., but the truth of the matter is when you have been injured in a motorcycle accident, you need an aggressive lawyer who will get you the most money possible in compensation for your financial needs and your pain and suffering.
Nobody ever thinks they will be injured in a motorcycle accident while cruising down the highway. The minute they go down, however, their whole life changes, and in the case of a serious motorcycle crash it could be months or even years before they fully recover from their sustained injuries. This reason alone is why you need an experienced and knowledgeable motorcycle accident attorney representing your insurance claim.
The truth of the matter in any motorcycle accident where a biker is injured, they will need money to cover medical bills for surgeries and rehabilitation, money to live on while they are unable to work, and money to get their motorcycle repaired.
Our job is to use our skill and legal expertise in personal injury law to represent and protect the interests of our client, while securing a fair and adequate settlement for the pain and suffering they have endured.
It may seem somewhat straightforward to representing a victim of a motorcycle accident in insurance claims and court proceedings.  In reality, there are so many laws and regulations that govern a personal injury claim that it takes an experienced legal expert to guide you through. Russ Brown Motorcycle lawyers specialize in motorcycle accidents, and only represent victims of this type of biker personal injury.
Insurance companies are in the business of making money for their shareholders. When they are faced with substantial financial responsibility when one of their insured is at fault in a motorcycle accident, their only concern is closing the case as quickly and for the least amount of money possible. The insurance company's first line of defense is the claims adjuster, who will try to minimize the seriousness of your case in an effort to settle the case on the insurance company's terms. We know how insurance companies and claims adjusters operate, and can even the playing field for you.
Sign up for BAM, Free Breakdown and Legal Assistance for Motorcyclists at any of the Progressive International Motorcycle Shows.  Use code RBBAM14 for $2 off your ticket to the show.
Call Now and discuss your injury case with Russ Brown Motorcycle Attorneys 1-800-4-BIKERS
We Ride We Care We Win!
Nationwide Motorcycle Lawyers, Wherever you are, we are.
Wherever you are, we are
KS Kansas
KY Kentucky
LA Louisiana
MD Maryland
ME Maine
MI Michigan
MN Minnesota
MO Missouri
MS Mississippi
MT Montana
ND North Dakotoa
NE Nebraska
NH New Hampshire
NJ New Jersey
NM New Mexico
NV Nevada
OR Oregon
NY New York
OH Ohio

Cincinnati
Cleveland
Dayton

OK Oklahoma

OR Oregon
PA Pennsylvania

Pittsburgh
Philadelphia
Scranton

RI Rhode Island
SC South Carolina
SD South Dakota
TN Tennesse
UT Utah
VT Vermont
VA Virginia
WI Wisconsin
WA Washington
WV West Virginia
WY Wyoming
DC Washington DC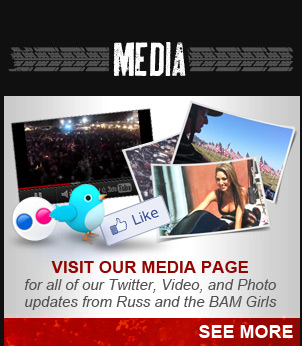 Blog Feed
Fierce Fast Fanatic & Friendly – Meet The Miss-Fires NYC
Five months ago, a group of ladies from New York City with an interest in motorcycles took a step back to observe the city's motorcycling scene.  They were not impressed with what they saw.  The Big Apple was essentially dominated by men's only clubs leaving little room for women to ride, let alone make them ... Read more →
An All Purpose Machine
Ever heard of the Rokon Trailbreaker? Well, if you haven't, it is a bike that was designed to handle tough terrain that even dirt bikes can't deal with.  Sounds pretty amazing right?  Well, it looks as though there is a machine out there that can actually top it.  A bike that can get you to ... Read more →
The POW/MIA Chair Of Honor
After witnessing a seat left purposely empty in Bristol, Tennessee for American troops who were POW/MIA, the President of Rolling Thunder Massachusetts Chapter, Joe D'Entremont was determined that Massachusetts would become the first state in the country to have POW/MIA chairs in all their professional sports venues. Through Robert Kraft, owner of the New England Patriots, ... Read more →