Motorcycle Accident Attorney in Arkansas
Arkansas Motorcycle Laws: Know Before You GO
Our Arkansas motorcycle accident attorneys can help you with your accident injury claim. BAM is home to motorcycle personal injury lawyers who ride themselves. They have handled countless claims, and helped our clients to recover for lost wages, pain and suffering and more. Don't settle for a motorcycle accident lawyer who doesn't have a working knowledge of state motorcycle laws. If you've been injured in an accident involving a motorcycle, our personal injury lawyers would like to speak with you.
If you've never ridden through the State of Arkansas, you don't know what you are missing. Nestled between the Mississippi River, the Ozarks, and the Ouachita Mountains, Arkansas' diverse landscape offers motorcyclists a little bit of everything. Bikers who ride through Arkansas can take their pick of winding mountain roads, twisting delta bypasses, or beautiful lakes—and partake of numerous outdoor recreational activities.
In addition to the beautiful scenery, Arkansas is home to some of the best motorcycle rallies, rides, and events. The Bikes, Blues, & BBQ Motorcycle Rally alone draws in over 400,000 riders every year.
If you are considering a trip to the state this year, our Arkansas motorcycle accident lawyers remind you that it is important to know the motorcycle laws of the state—before you ride. This can help you avoid both expensive traffic tickets and dangerous motorcycle accidents.
Arkansas Motorcycle Laws (always check with the Arkansas DMV for the most up-to-date laws)
Helmet Law: All motorcyclists and passengers under the age of 21 are required to wear a safety helmet
Red Light Law: Left turn through traffic actuated red light is allowed only after a complete stop and with caution
Passenger Seat and Footrest: Required by law if carrying a passenger
Passenger Age: Passengers on a motorcycle must be at least 8 years old
Muffler and Sound Criteria: No acoustical limits on noise
Handlebar Height: No restrictions
Eye Protection: Required by law both on and off road
Daytime Use of Headlight: Required by law—modulating headlight permitted
The Russ Brown Motorcycle Attorneys are here for you—no matter where you ride. That's why we created BAM, a free roadside and legal assistance program. With nearly 2 million members, we are now the nation's largest networks of bikers helping bikers. Call us today at 1-800-4-BIKERS to learn more about BAM or our law firm.
If you or someone you love is ever injured in a motorcycle accident in Little Rock, Fayetteville, Fort Smith, Hot Springs, or anywhere in the State of Arkansas, the Russ Brown Motorcycle Attorneys can help. We Ride—We Care—We WIN!
Russ Brown Attorneys serve several locations including:
Hot Springs
Little Rock
Black oak
Fayetteville
Conway
Eureka Springs
Fort Smith
Bentonville
Rogers
Pine Bluff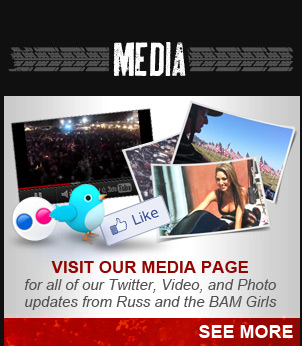 Blog Feed
Light Sensor Problem Solved in Oregon
If you've ever spent time driving in Portland, Oregon, you know that there is a crazy high ratio of bicycles to cars year round. When the rain starts to break and the sun peeks through the clouds, suddenly there are motorcycles everywhere, too. This rings true for most of Oregon. Every two wheel driven individual, whether ... Read more →
Arizona Motorcyclists Are Full Throttle Ahead in Working with State Legislatures
Motorcyclists from around Arizona have been lobbying their representatives to support HB 2345 in the current legislative session as the measure would do away with handlebar height restrictions and eliminate required grab bars for passengers. This measure was pushed strongly by the ABATE of Arizona and Arizona Confederation of Motorcycle Clubs and, as of now the ... Read more →
Malorie's Law in Texas Causes Confusion for Thousands of Motorcyclists: PART II
After six incredibly long weeks of submitting media requests to the Texas Department of Public Safety to provide clarification on 10 questions raised by the January 1 implementation of Malorie's Law, the responses finally arrived.   It's worth noting, that these replies only arrived once an absolute fire-storm erupted online…when several high profile motorcycle publications began ... Read more →