BAM Contests & Events
2014 is sure to be a great year and why not make it greater by winning a brand new Harley-Davidson Softail Motorcycle.  Russ Brown Motorcycle Attorneys and BAM will be giving away two new Harleys this year to two lucky BAM members.  To sign up check the list below to see where Russ Brown and BAM will be next.  Sign-ups for the Harley-Davidson giveaway must be done in person.
***ZZ TOP AND FLORIDA GEORGIA LINE AT THE STURGIS BUFFALO CHIP WED AUG 6 2014***
To win tickets to Russ Brown/BAM's VIP NIght at the Sturgis Buffalo Chip which includes tickets to see ZZ TOP AND FLORIDA GEORGIA LINE sign up for BAM ONLINE (ONLINE ENTRIES ONLY), put in the comments section you are going to Sturgis and you could win! Sign up NOW click here.

STURGIS MC RALLY
AUGUST 1 – AUGUST 10, 2014
STURGIS, SD
SALUTE TO AMERICAN VETERANS RALLY  
AUGUST 15 – AUGUST 17, 2014   
CRIPPLE CREEK, CO
THUNDER IN THE ROCKIES
AUGUST 30 – SEPT 1, 2014
LOVELAND, CO
GOLDEN ASPEN RALLY
SEPTEMBER 17 – SEPTEMBER 21, 2014
RUIDOSO / MESCALERO, NM
BIKES, BLUES & BBQ
SEPTEMBER 24 – SEPTEMBER 27, 2014
FAYETTEVILLE, AR
STREET VIBRATIONS FALL RALLY
SEPTEMBER 24 – SEPTEMBER 28, 2014
RENO & SPARKS, NV
LAS VEGAS BIKEFEST
OCTOBER 2 – OCTOBER 5, 2014
LAS VEGAS, NV
AMERICAN HEAT
OCTOBER 10 – OCTOBER 12, 2014
PALM SPRINGS, CA
BIKETOBERFEST
OCTOBER 16 – OCTOBER 19, 2014
DAYTONA BEACH / ORMOND, FL
LOVE RIDE 31
OCTOBER 25, 2014
CASTAIC, CA
LONE STAR RALLY
NOVEMBER 6 – NOVEMBER 9, 2014
GALVESTON, TX
Stop by and see what Russ Brown and BAM have instore for 2014.  Motorcycle giveaways, stickers, Sturgis VIP events and more.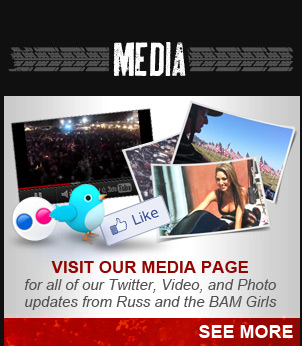 Blog Feed
September 24th – 27th Bikes Blues & BBQ Fayetteville Arkansas
Get Ready to Boogie down in Arkansas at the Bikes Blues & BBQ Rally Bikers love getting together to fuel good causes, and for fourteen years thousands of bikers have been making the run to Fayetteville, Arkansas to support the Bikes Blues & BBQ Rally. The BBB rally, as it is commonly known, is an annual ... Read more →
Off the Beaten Path: Sturgis South Dakota
One of the greatest things about attending the Sturgis Motorcycle Rally is that you can drive a few hours in either direction and see some incredible sites. From Mount Rushmore to Deadwood, this area of the country is full of historical landmarks and some incredible off-the-beaten path attractions. If you are looking to venture outside ... Read more →
Arlen Ness Brother Killed In Motorcycle Accident
Arlen Ness family is mourning the loss of his brother Kevin Ness. The motorcycling world is saying a prayer for the family of Arlen Ness after the tragic death of his brother on Monday due complications suffered during a multi-vehicle crash on July 30 in Reno, NV. According to Nevada Highway Patrolman Chuck Allen, a motorcyclist riding ... Read more →