BAM Contests & Events
Russ Brown's GoPro Giveaway at IMS!
Come visit our booth at any of the IMS shows, take a photo with our Russ Brown Eagle girl and email it to:
bam@russbrown.com along with your full name and you will be entered to win a GoPro HERO3 White!
Entries must be received by end of day Sunday (11:59PM) to qualify.
Winning photos will be featured on our Facebook page, www.facebook.com/RussBrownMotorcycleAttorneys
IMS: DALLAS
Dallas Convention Center
JAN 23 – 25, 2015
EASY RIDERS BIKE SHOW: CHARLOTTE, NC
Charlotte Convention Center
JAN 24, 2014
IMS: OHIO
I-X Center
JAN 30 – FEB 1, 2015
 COLORADO MOTORCYCLE EXPO
National Western Complex
JAN 31- FEB 1, 2015
TIMONIUM MOTORCYCLE SHOW
Maryland State Fairgrounds
Timonium, MD
FEB 6-8, 2015
IMS: MINNEAPOLIS
Minneapolis Convention Center
FEB 6 – 8, 2015
EASYRIDERS BIKE SHOW: NASHVILLE, TN
Henderson Expo Center
FEB 7, 2015
IMS: CHICAGO
Donald E. Stevens Convention Center
FEB 13 – 15, 2015
 INDIANA MOTORCYCLE EXPO
Indiana State Fairgrounds
FEB 20-FEB 22, 2015
EASYRIDERS BIKE SHOW: COLUMBUS, OH
NATIONAL INVITATIONAL FINALS
Greater Columbus Convention Center
FEB 21-22, 2015
2014 was a big year with TWO Harley Davidson Softail Bike Giveaways and countless ticket giveaways to Motorcycle Events across the country!  To find out more about contests, giveaways and event discounts in your area, join BAM and email us at: bam@russbrown.com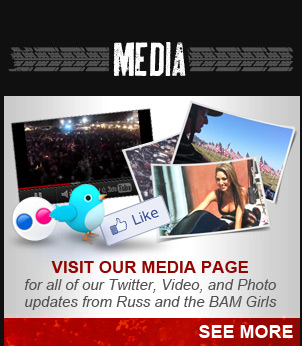 Blog Feed
Long Beach International Motorcycle Show Highlights
The Progressive International Motorcycle Show visited Long Beach, California this last weekend (Nov 12-16)- and of course, we were there! Free motorcycle parking and gear check at the Long Beach convention center brought thousands of motorcycles to the show. Hundreds of exhibitors brought their new products, and best and brightest custom bikes for attendees to inspect.  There were ... Read more →
Stop Lights & Traffic Sensors
Q. What do you do if your motorcycle won't trip the red light sensors? We're sitting ducks, especially at night, and if it's got a camera we have to lose a day's pay to go fight the fine. A. Unfortunately there is no easy answer. The law seems to be moving to the point where all traffic signals ... Read more →
Ladies Take Over Joshua Tree
If you were anywhere around Southern California (especially East of Los Angeles) the weekend of October 3rd, you probably witnessed a mob of women motorcyclists heading down the highway. They were all on their way to the 2014 Babes Ride Out event, dubbed "Babes In Joshua Tree". Friday, October 3rd hundreds of ladies flooded into the campground and ... Read more →