Russ Brown Motorcycle Attorneys
Present BAM!
BAM: FREE Breakdown and Legal Assistance for Motorcyclists NATIONWIDE
You need your FREE BAM Benefit Card (join BAM now) from Motorcycle Accident Attorneys Russ Brown, Chuck Koro & Jim Romag, and get the protection it offers. Join close to two million fellow riders and receive:
Emergency Roadside Motorcycle Service

Nationwide Legal Service Network and immediate legal assistance if you have been hurt in a motorcycle accident

24 Hour Toll Free Motorcyclist Hotline

Emergency I.D. Card

Motorcycle Storage

Blood Donations

Hospital Visitation
"I broke down on the way back from Daytona and it was in the middle of the night near Crestview, FL.  My oil line blew, so I pulled off and coasted towards my friend.  We tied our tie down strap to each bike and putted though the darkness as the fog covered us like we were rolling into the twilight zone.  I couldn't think of anyone to call because we were 1500 miles from home.  Then I remembered I had BAM and wow!  They got in touch with the most wonderful couple in the world who came to our aid like angels.  BIG THANKS TO BAM.  YOU PEOPLE ROCK!"  - Greg Griego
BAM is a unique organization of bikers helping bikers. Motorcycle Attorney Russ Brown started BAM over 30 years ago to provide assistance to motorcyclists across the country. BAM's nationwide volunteer network of over 1.5 million motorcyclists can help you in an emergency. If you experience a breakdown or mechanical problems while on the road, call 1-800-4-BIKERS, and we will computer search our volunteer network and send someone out to help.
BAM also provides legal services to members. Our nationwide legal network of over four hundred biker-friendly lawyers is ready to help you if you are involved in a motorcycle crash.
BAM's emergency ID card can speak for you if you are incapacitated in a crash. We list your emergency contact person, medical problems, and blood type. When emergency personnel call, we will supply this information and provide donors if necessary.
BAM membership is FREE! All we ask is that you volunteer to help another member in need of assistance if called upon and only if you are available to do so.
Get your FREE BAM Benefit card NOW!
Take a few minutes and complete our online registration form and have 1.5 million fellow motorcycle riders ready to help you.  You can also sign up at the Russ Brown Motorcycle Attorneys / BAM booth at any of the major motorcycle events happening across the Nation.  We welcome you to our nationwide family of BAM members.
Notes From Happy BAM Members
"I was introduced to BAM in 2008 at Thunder Beach in Panama City, Florida.  At first, I was skeptical.  Now, I believe everything the reps advised, and I believe that my information was not sold or given out.  I even advertise it on my North Florida Sportbike Riders Forum.  The BAM card is like the credit card "I never leave home without.  Great Service." 
- Gixxer
"I wanted to follow up after our phone conversation to reinforce my appreciation for BAM.  On Wednesday the 26th I had the misfortune of an electrical failure on my motorcycle.  In virtually the middle of nowhere (north of Kingman, AZ) one of your people came to assist.  They went well beyond the call of duty by loading my bike on their trailer and taking me to a motel where I could settle in for the night and plan for the next day.  Thanks again to BAM, and even more specifically to Shawn and Deborah, my Good Samaritans!"  
- Best Regards, Mark Roberts
"I just wanted to tell you how thankful I am for this organization and its members.  I signed up last year before I really started riding.  Today, seven miles from home, my battery went dead. I was on my own, on a Sunday, a lone female biker.  All my friends had already left on our annual trip to Vegas, and I had no one.  BAM found someone with a trailer who dropped my bike off at my mechanic, and then dropped me at home!  I know I will not hesitate to do what I can when BAM calls me!"
- Sincerely, Saphyre Rogers
"Thank you so much BAM!  I am new to riding.  I've tried to get certain things so they are auto- matic, but sometimes you realize you forgot to do something important at a very bad time.  This morning, New Year's Day, I had just passed the last exit for a few miles and the bike starts to sputter!  I tried to turn on the reserve, when I realized I had forgot to switch it to normal the last time I got gas.  I called you, and you were great!  And Ken, who rescued me, thanks for getting up at that hour on New Year's Day to rescue a newbie.  Thanks to you all I made it home safe and sound.  And would you believe, not one CHP passed me the entire time?  Thanks!"
- Cindy V in San Diego, California
Thank you to all our fellow BAM members across this great country for making BAM the largest volunteer 'Rider Helping Rider' program in the Nation!!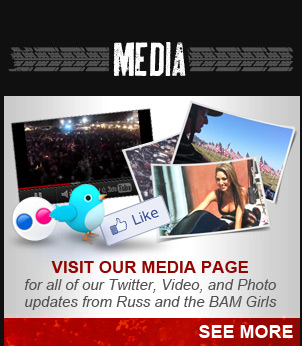 Blog Feed
Light Sensor Problem Solved in Oregon
If you've ever spent time driving in Portland, Oregon, you know that there is a crazy high ratio of bicycles to cars year round. When the rain starts to break and the sun peeks through the clouds, suddenly there are motorcycles everywhere, too. This rings true for most of Oregon. Every two wheel driven individual, whether ... Read more →
Arizona Motorcyclists Are Full Throttle Ahead in Working with State Legislatures
Motorcyclists from around Arizona have been lobbying their representatives to support HB 2345 in the current legislative session as the measure would do away with handlebar height restrictions and eliminate required grab bars for passengers. This measure was pushed strongly by the ABATE of Arizona and Arizona Confederation of Motorcycle Clubs and, as of now the ... Read more →
Malorie's Law in Texas Causes Confusion for Thousands of Motorcyclists: PART II
After six incredibly long weeks of submitting media requests to the Texas Department of Public Safety to provide clarification on 10 questions raised by the January 1 implementation of Malorie's Law, the responses finally arrived.   It's worth noting, that these replies only arrived once an absolute fire-storm erupted online…when several high profile motorcycle publications began ... Read more →